If you are in immediate danger and fear for your safety, dial 911.
If you are in a safe place, please call the Samaritan House 24-hour crisis hotline at (757) 430-2120 or use our new chat feature to interact with a member of our specially trained intake staff.
Signs of Domestic Violence
WOMEN AGAINST VIOLENCE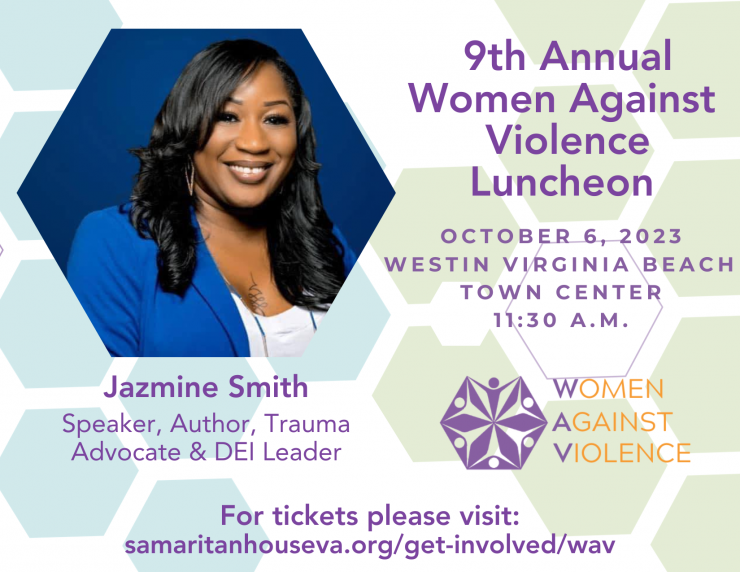 2023 WAV Luncheon - October 6, 2023
Mark your calendar for the 2023 WAV Luncheon that is scheduled for Friday, October 6 at the Westin Virginia Beach Town Center featuring a keynote address by Jazmine Smith, survivor, author, trauma advocate & DEI leader.
Tickets are available HERE. If you are interested in becoming a sponsor of this event, download our sponsorship packet HERE.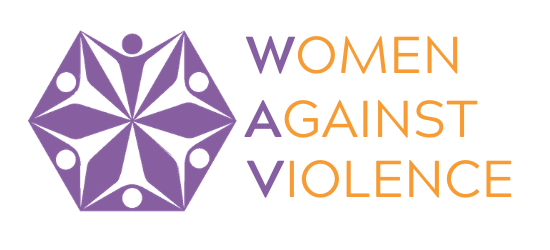 Women Against Violence, (WAV) is a group of passionate and committed women who are dedicated to providing advocacy, awareness, volunteerism, financial support, and connections to assist Samaritan House in fulfilling its mission. WAV members spread awareness for the services Samaritan House provides to help people free themselves from domestic and sexual violence, human trafficking, and homelessness.
Membership Benefits
Invitation to social and networking events.
Participate in the annual WAV item drive. WAV members spearhead annual items in response to the specific needs of Samaritan House clients.
Participation in bi-monthly service projects (hands-on and family-friendly) that directly impact the operation of Samaritan House.
Invitation to Donor Appreciation Event. Mingle with like-minded professionals and individuals dedicated to supporting the mission of Samaritan House.
Opportunity to sponsor a table at the annual WAV luncheon. Table sponsors are listed on WAV Luncheon marketing materials and logo placement, recognized on the sponsor board at the event, and receive ten (10) complimentary tickets to the luncheon.
One complimentary ticket to the annual WAV luncheon (only available to at-large members.)
Membership Levels
WAV Committee Member & Luncheon Table Sponsorship, $1,000 (or $85 monthly)
Junior WAV Membership (At Large), $500 (or $45 monthly)
Women Against Violence Members

Carrie Crisman
Read Bio

Mary Elizabeth Davis
Read Bio

Patricia Davis
Read Bio

Violetta Dishner
Read Bio

Kaylie Donahue-Martin

Jessica Fitzgibbons

Robin Gauthier
Read Bio

Melinda Goodwin
Read Bio

Christine Hajzak
Read Bio

Patty Hall
Read Bio

Bobby Hall
Read Bio

Leslie Herring
Read Bio

Dawn Hrelic
Read Bio

Tricia Hudson
Read Bio

Brittany Jeffries
Read Bio

Danielle McCormac
Read Bio

Helen Merjos
Read Bio

Donna Merritt
Read Bio

Ellen Nacey
Read Bio

Stacy Nixon
Read Bio

Grace Orsini
Read Bio

Charity Volman
Read Bio

Tiffany Weaver
Read Bio

Christina Zotzman-Brown
Read Bio